Look at Our Track Record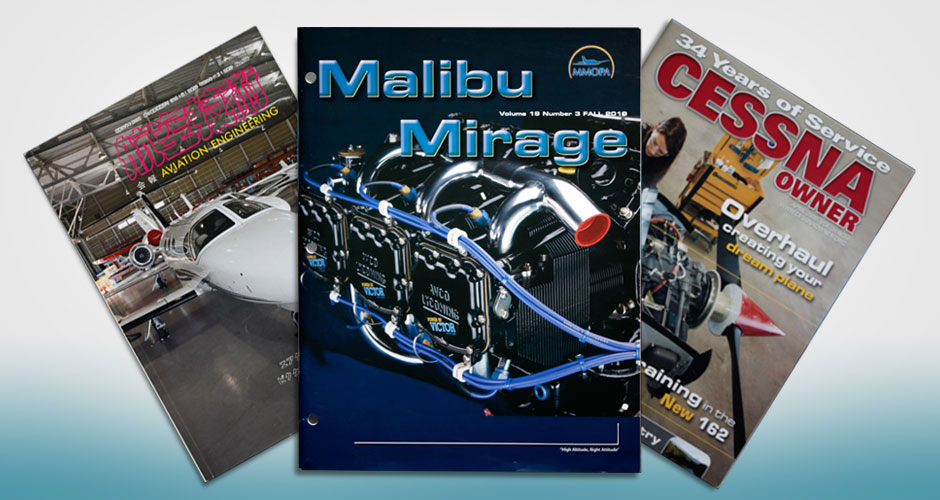 ,
Cold Facts Magazine February 2014



,
Cold Facts Magazine August 2017



,
Aero Sensing Breaks Record



,
Cessna February 2018
Speed or Fuel Economy?

Economy cruise will soon become a way of life for those of us who prefer to fly rather than inch along on the freeway. by Bill Cox - read more [PDF]

"Using roughly the same power settings and lean mixture at the same altitude, max cruise was about the same or perhaps a knot or two more, but the big change was in fuel burn," Reid suggested.






"Victor Victorious. Victor is
in the business of remanufacturing piston engines and turning
out the smoothest power plants
ever built. The result has to
be flown to be believed. If you fly Sloan's personal A36 TC,
you could very well think you
were flying an electric motor."

Plane & Pilot,
Bill Cox





Hands down, though,
the most extensive custom
overhaul is done at
Victor Aviation where
Sloan's team puts engine
parts through a dizzying
battery of tests and
measurements. The end
result of this detailed
process is increased
performance, power,
and longevity.

Heather Baldwin 


"After visiting Victorland and
seeing what I saw, I can only give Victor Aviation five stars on a
scale of one to five."
"…Prince of Blueprints…"



TBO Advisor

, Kas Thomas



"Blueprinters. A little extra
tweaking, and you can have
ablue ribbon engine.
Victor Aviation's Bonanza A36
carries passengers in comfort with less vibration and noise."



Flying Magazine

, Fred George




"I've had the pleasure of flying a dozen aircraft fitted with Victor engines, everything from Cessna 421s, 340s and Aztecs to
Bonanzas and Skylanes,
and they're unquestionably the smoothest "

Plane & Pilot

, Doug Colby



"Sloan does an excellent job of explaining what he can do, and
he turned out to be as incredibly picky as he claimed."

Plane & Pilot

, Howard Israel


"Victor's overhauls, more than just
a pretty face. One thing that
airplane owners covet is a shop
that gives expert and individual attention of the airplane and engine. Add to that some custom classy styling and the combination is
even better. The real strong suit
of Victor's overhaul is it's smoothness."



AOPA

, Richard L. Collins





"Under the glitch, VA provides substance. Until recently,
engine overhauling has been straightforward, but all that's changing, and Victor is one of
those doing the changing.
Victor Sloan puts turbine
smoothness in a factory
piston engine."



Private Pilot

, Nicholas E. Silitch





"Making engines breathe easier."
"Victor Sloan loves engines, specifically high-performance
aircraft piston engines and he
is devoted to making them more efficiently and reliably than they
were ever designed to operate."



Aviation Equipment Maintenance

, Paul Berner


Back To Top