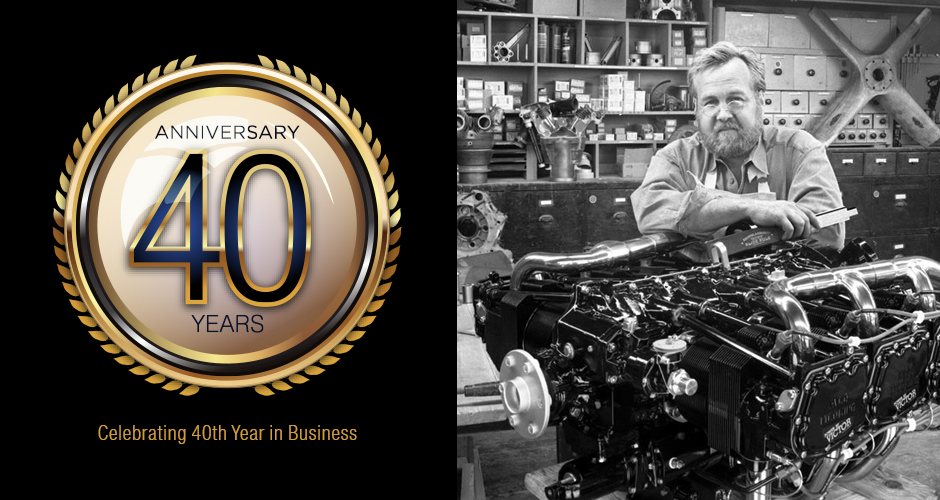 Victor Aviation Documentary
Fascination with Engines

Victor Sloan, founder and president of Victor Aviation developed his interest in piston engines building motorcycle engines as a teenager. He would take an engine apart, figure out how it worked and attempt to find unique ways to improve the life and performance of the engine. This was important to Victor because at the age of 16, he was an expert flat track motorcycle racer and engine builder.

Racing motorcycles and the fascination of improving air cooled engines dominated his interests. Working in his father's garage with other motorcycle racers, including five-time world champion Kenny Roberts and Jim Rice, Victor figured out how to make engines really work to their maximum reliable potential. Victor would disassemble the engines, find out ways to improve them and then test them on the race track. Victor knew that reliability and performance were necessary to finish the race.

Victor went on to become one of the nation's leading competition motorcycle engine builders, working on BSA, Triumph, Harley Davidson and Yamaha Motorcycles.
Career In Aviation



Victor decided to go to college and follow an interest in an aviation career. He actively pursued all the FAA licenses that one could obtain as a mechanic, pilot and instructor, including AP, Advanced Ground Instructor, MEL, CFII, and obtained Lifetime Turbo-Jet Engineer Ratings.

Through these years of training and gaining flight experience, Victor analyzed the problems that seemed inherent with piston aircraft engines. He saw the need to improve the piston aircraft engine and found a trade school in Palo Alto, California that focused on airframe and powerplant technology. Victor joined the program, and within two years of study, obtained Lifetime Vocational Technical Trade credentials with the State of California to teach Airframe and Powerplant Technology and became the chairman of the College of San Mateo Aeronautics Counsel.

After four years of hands-on teaching of how powerplants worked, Victor decided to go into business for himself. He converted his old motorcycle van to a mobile aircraft repair shop and traveled around California servicing customers' aircraft. An aircraft engine shop then suddenly appeared where the motorcycle shop used to be in his father's garage and Victor Aviation was born.

A Tradition Continues



With the experience gained from the motorcycle industry and help from some of his best colleagues, including the famous NHRA dragster engine builder, Keith Black, Victor applied his piston engine knowledge to the aircraft industry. Victor's parents then followed suit, came to work with him, and a business that started out of a van became the world's leading, quality engine rebuilding company. Today Victor continues to work with NHRA dragsters including AA Top Fuel National Champion Brandon Murry.

Victor also was also inspired by his good friend and mentor the late X-15 Rocket Pilot Scott Crossfield. Scott was the first pilot to fly to Mach 2 and Mach 3. Scott started off as a customer of Victor's and later became his number one mentor. Scott was a propulsion engineer and a pilot so obviously Victor and Scott had as lot in common. Victor's cryogenic testing technology was developed for the aircraft industry with Scotts inspiration and guidance along with many other engine technology advancements. When Scott passed away in 2006 the Crossfield family gave Victor the most cherished compliment. They asked Victor to be the adopted son of Scott as the 6th member of the family. The Crossfield family said that Scott spent more time with Victor than anyone else in the family.



The company has further grown into a machine shop operation encompassing some 20,000 square feet with distributors around the world supporting general aviation and aerospace aircraft. Victor has pioneered many product improvements and process changes to the way piston engines are built, and still today, no other company or manufacturer can match the superior quality and performance that is produced with a "Power-By-Victor"™ Engine.

Victor is proud to say that the tradition continues with the assistance of his wife, two great sons and a wonderful team of professionals at Victor Aviation.
Back To Top