A New Life For Your Engine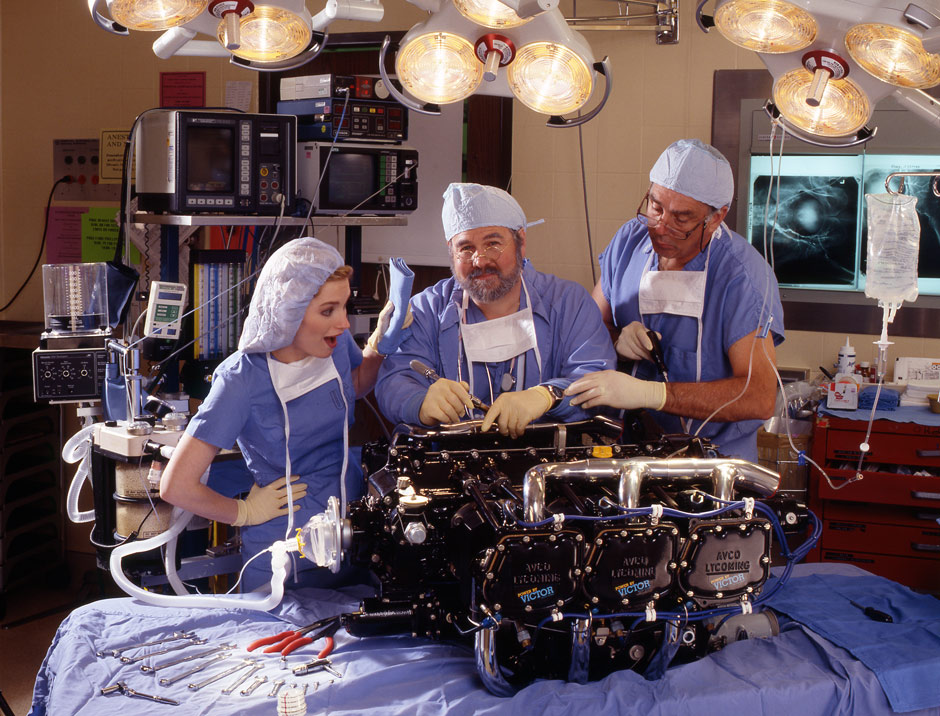 Victor Sloan has a unique philosophy on how aircraft engines should be cared for. One of Victor's customers, a surgeon at the University of California San Francisco made a comment one day that Victor treats customer's engines as though they were coming into a hospital for care. "Your engines get inspected, diagnosed and solutions are determined to put new life into the engine while extending their lifetime in a more efficient manner". This is similar to how patients are treated in medical care facilities. Victor thought that was such a compliment that he asked the surgeon if we could celebrate his thought. We were given permission to take this photo at the surgery center at U.C.S.F.
Built By Certified Master Machinists
"Power-By-Victor" Engines are hand built by the World's Best ASE Certified Master Machinists. An ASE Master Machinist Certification is only provided to those select few Machinists that have proven to meet the most rigid Quality and Mechanical Technology Experience Standards.

Victor Sloan, President of Victor Aviation is quick to credit the experience and high skill levels of his employees with the World Renowned Quality Reputation of "Power-By-Victor" Engines. Engine technicians comply with all required vision, drug testing and recurrent training requirements set forth by the FAA and other recurrence training curriculums of Victor Aviation.

Many overhaul facilities and the original engine manufacturers are now out-sourcing a great deal of their machine work due to the limited availability of qualified Engine Machinists along with equipment reductions and cost cutting. When parts are out-sourced this means that the company building the engine can't personally oversee the quality control. At Victor Aviation all quality control is overseen in house assuring you the finest workmanship. To prove the quality that goes into every "Power-By-Victor" Engine we provide the World's Best Limited Workmanship Warranty, Pro-Rated to TBO on Black Edition V™ , Limited Edition VI™, XR Black Edition VII™ and Gold Edition VII™ Engines.

Zeiss Computer Measuring
Machine Dimensional Inspection

Crankshaft Grinding & 3M Tape Finishing

Air Flow CFM Analysis

EDM Cutting

Ion Plasma Nitriding

Pin Honing

Double Disk, Blanchard & Centerless Grinding

Vibratory Stress Relieving

Connecting Rod Machining

CNC Machining

Camshaft Grinding

Adapter Shaft Grinding

Hardinge Lathe Machining

Crankcase Alignment Boring

Bridgeport Machining

Laser Shot Peening

Grinding & Lapping

Sunnen Cylinder Boring

Pneumatic Shot Peening

Isotropic Surface Finishing

Torex Vibratory Finishing
The result is a standard of excellence that manufacturers and other overhaulers attempt to imitate,
too often without the skill levels, experience, and equipment to compete.